Hello everyone,
I've gotten a little behind on my blogging recently due to my very busy schedule getting in the way. All the things to do such as schoolwork, settling in, and desperately trying to learn French take up a lot of my time and energy. However, I'm more settled in now and am getting into a more relaxed state as I slowly get into the rhythm of French life. The next few posts will be going back in time to when I first arrived. I had hastily pounded out outlines of all of them previously, as not to forget what had happened or what I wanted to write about, but now have the time to change them into something logical and legible.
During this exchange, I will be given lodgings by four different families spending an average of three months with each. I don't even know who my next host family is after I leave the Corbaux family at the end of January. I will be writing about each of these four families over the course of the year.
The Corbaux family lives in what we would consider a suburb just outside of Caen. This suberb however is actually a separate town/village (or
commune
in french) and goes by the name of Cuverville. Most people actually do not live in Caen but in these numerous outlying
communes
. The full name of this town that I live in is
Ma
rie de Cuverville
. The word
Marie
I think just means town or village as all the other
communes
follow this pattern. (
Marie de Giberville, Marie de Demouville
etc.) Some of you have asked for my current mailing address. It reads as follows:
A. Macdonald
6Bis Rue de Demouville
14840, Cuverville, France
As I have mentioned before, four members make up the Corbaux family: Eric and Nathalie Corbaux with their two children, Scarlett, their daughter, and Hippolyte, their younger son. I have not actually met Scarlett as she is currently on an Rotary Youth Exchange to Edmonton, Alberta. Eric, Nathalie and Hippolyte have been very kind in welcoming me into their lives.
As we entered Cuverville after our long drive from the airport, I began to get very excited and tried to guess which house was theirs. I was hoping for something very old and classic to old French architecture. I saw numerous grand old houses which were elegantly nestled within thickets of trees.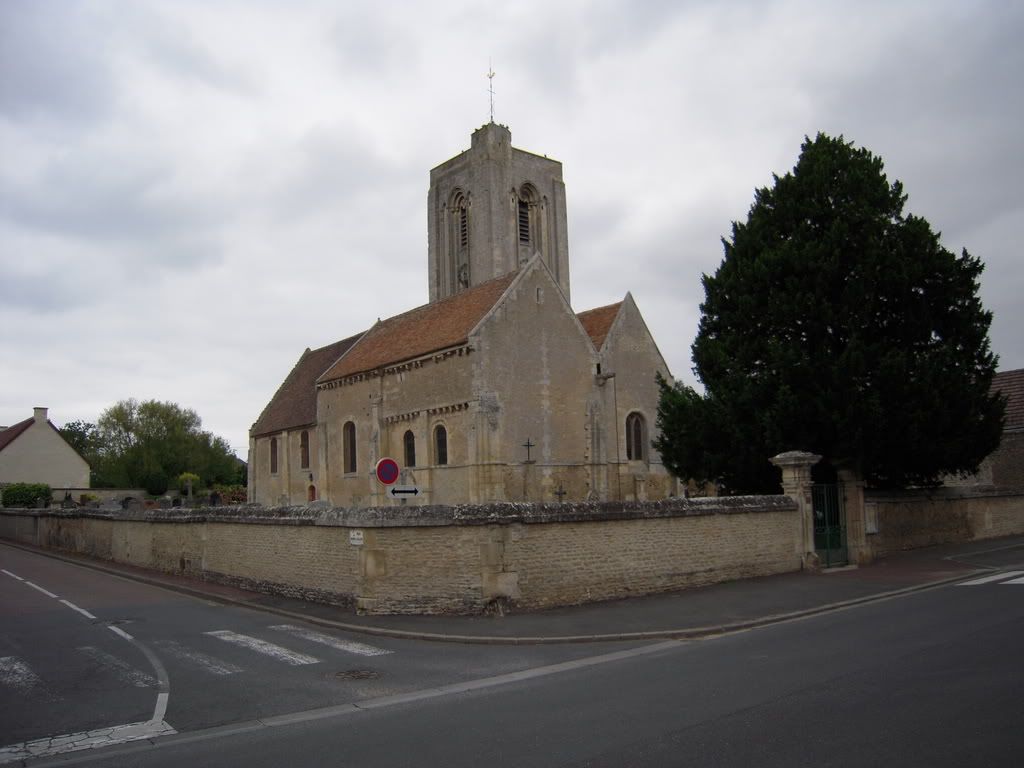 During this guessing game, I noticed that all the houses were enclosed by a fence or hedges, and without exception, a large, double-door gate. These gates are usually opened and shut by a little motor and allow privacy and car access. Quite a few houses do not have garages. The gates seem to be the French equivalent of a garage door.
When we finally
stopped I was disappointed to see that they lived in a newer home built around the 1960's. My dissatisfaction did not last long however when I saw that they are neighbours to a 500 year-old church, the
Église de Cuverville
. The photograph above shows the view from the street. They also have a beautiful garden and fish pond. A photo of the Corbaux Family's home can be seen to the left.
After lugging my two enormous suitcases from the car, I was introduced the the family dog, Ani. He is a French Bulldog named after Anaken Skywalker: a character from the Starwars series which the Corbaux's enjoy immensely. Ani enjoys stealing my socks, attempting to eat my shoes and sneaking into my room when the door ha
s been carelessly left open. He is just like a little pig with the way he snorts and snuffles around. At night, he sleeps just outside my door and snores like a tractor often waking up around 1:00am to play "kill the chew-toy." Although aesthetically challenged, he is very friendly and rather mischievous.
But I'm getting ahead of myself. After meeting the dog the Corbaux's s led me the door of my room whereupon I hit my head on the hanging chandelier of the entryway. It seems I am the tallest person in France and I can say with conviction that France is not designed for someone of my height. I must be constantly vigilent of what is near my head in order to prevent injury.
After much snickering at my expense over my altercation with the light fixtures, the Corbaux family allowed me to unpack and explore my room. It is on the first floor and my window sports a wonderful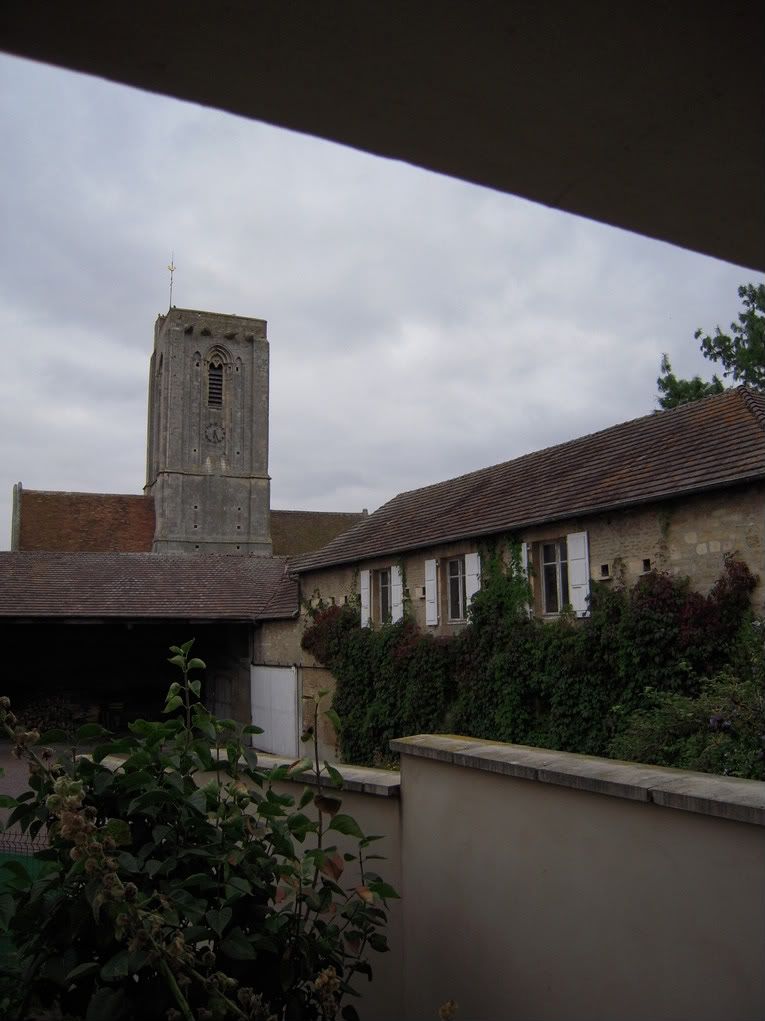 view of the church bell tower which can be seen to the left. The church clock chimes on the half hour and hour and goes absolutely bananas at 7:00am, 12:00pm, and 7:00pm. The chimes act as my alarm clock in the morning. (A rather nice wake-up call I think!) I hope to see inside the church soon.
My bedroom boasts a personal shower and is just outside the door of the main floor bathroom. It also has a desk, a large wardrobe with full length mirror, a long radiator coil, and, of course, a bed. Buildings in France are seemingly all kept warm though radiant heat. As it is warm right now, the radiators are shut off but I look forward to seeing how well they work. People try to not turn on their central heating system until the last possible minute due to the high price of fossil fuels. We Canadians have no right to complain of high gas prices compared to the French, and I assume the rest of Europe, as they pay slightly more than double the Alberta price. To save money and heat the house, the Corbaux's burn wood in a small firebox. It is my job, everyday after school, to light the fire and keep it going. I'm getting quite good at it and only need a bit of kindling and newspaper to start it. At first I had to use little white cubes of fire-starter to get it going. Pictures of my room can be seen below.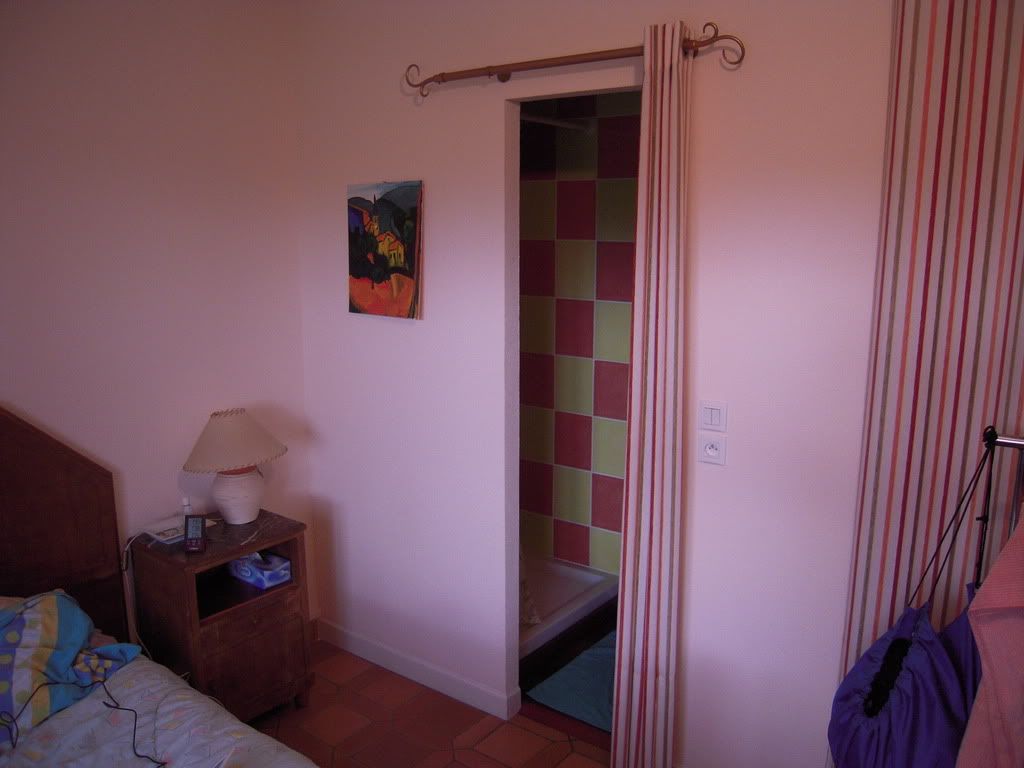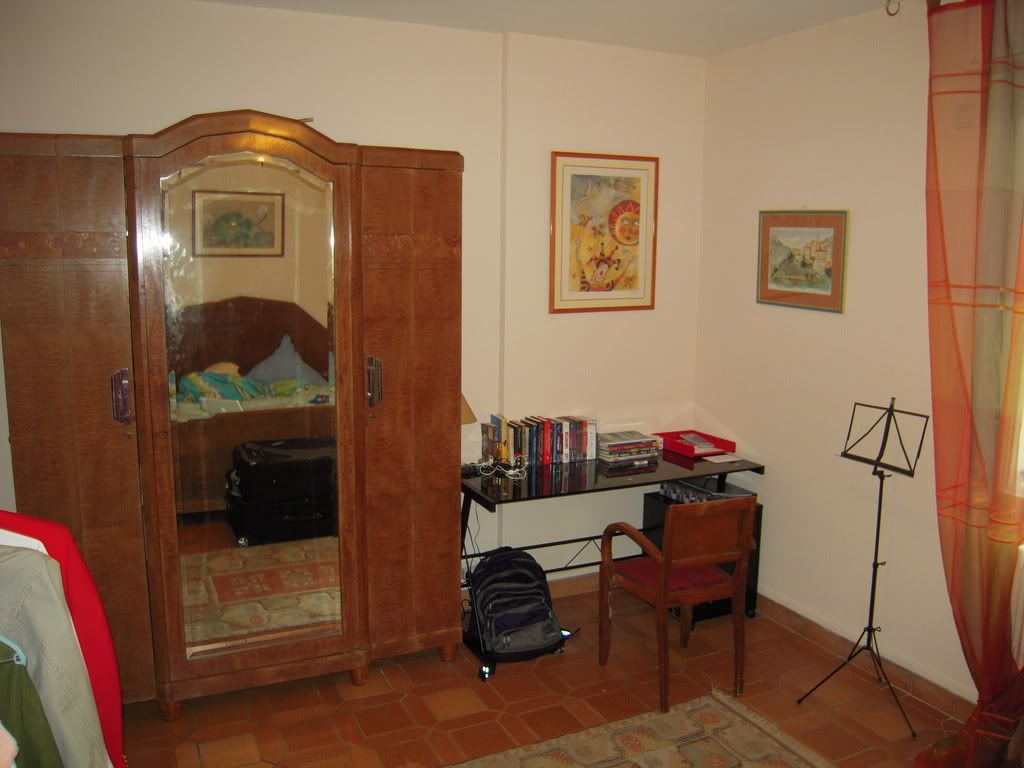 The French (from what I've seen so far at least) have shoes for inside and outside the house. The Corbaux's were surprised to hear that in Canada I usually walked around the house barefoot if not in stocking feet. Shortly after my arrival, we went to a large department store where I purchased a pair of comfortable carpet slippers. I really like them. They keep your feet warm on those cool mornings. These slippers are also useful for quick trips outside the house such as when I am asked to get some fresh
baguette
from the bakery which is 2 minutes walk from the doorstep. The bakery or
boulangerie
smells heavenly which makes the job of fetching bread hardly a chore at all.
So long for now. You'll hear from me soon.